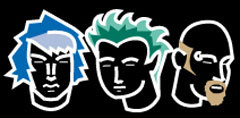 Elvis Hitler
First thing… let's get the name issue out of the way. This band does not come off as members of a hate group. There are no racist overtones in the music or lyrics. Even the song entitled "Black Babies Dancing on Fire" seems much worse than it actually is.
Near as I can tell this band has no agenda at all. Except maybe the drinking beer and rocking the house. Indeed, Elvis Hitler is the epitome of the great psychobilly band. Nothing particularly flashy or substantive… yet sublime rock 'n' roll nonetheless. Many of the forbearers of rock music… the legends like the Stones or Chuck Berry or even Buddy Holly were able to make great music for the ages without being overly talented. That is what makes rock 'n' roll such a wonderful thing… the music of the masses. Anyone can do it if they put three chords in the right order and make it interesting. Elvis Hitler does this. And how!
There is a dearth of information about Elvis Hitler on the internet. They are from Michigan and I am in Texas so I can't do a lot of personal research on the group. I've never seen them live. But here is what I am able to glean from the bits and pieces I've picked up. It is not guaranteed to be correct but I wouldn't have posted it on this page if I didn't believe it to be so.
Elvis Hitler consists of four cats from the Detroit area led by singer Jim Leedy… or Elvis Hitler. Leedy shares lead guitar duties with John Defever who is the brother of bass player Warren Defever. Warren Defever is evidently the leader of a different Detroit area group knows as His Name Is Alive which by some accounts defies categorization (but is not a religious music group). Rounding out the quartet is drummer Damian Lang who may have played on some HNIA recordings.
The first Elvis Hitler record was "Disgraceland", released in 1987 on the Wanghead label. The next year it was released again on (the apparently now defunct) Restless label, presumably with a larger printing. We know from the liner notes to this now rare recording that it was recorded in New Boston, Michigan and then mixed out in the Los Angeles Area. Credit goes to Todd Glass (George Friend, Danny D. and The Brothers Groove) for playing drums in the studio… perhaps Lang couldn't make the session. There is an address listed in Fraser, Michigan which just might be Leedy's home base.
During this time the band's manager was listed as Ron Geddish. A simple Google search reveals Geddish is/was a largely unsuccessful agent for a number of bands from the Motor City. I can't say whether he is still with us or still in the biz. Ferchissakes there is more about me on the internet than him. And I've never been in nor managed any rock bands.
Elvis Hitler's sophomore effort, "Hellbilly" (1989, Restless) was released the following year. Haven't heard it, although I plan to acquire a copy. You see, I never tried to track down any additional Elvis Hitler releases after running across "Supersadomasochisticexpialidocious" (1992, Restless) in a cutout bin in the mid-90's. I loved the title, but with few exceptions, the record just didn't live up to the (admittedly high) expectations set by "Disgraceland" which is strong all the way through.
That is about all I know. Any information or contributions are welcome. Below you will see a few tidbits I have pulled off the net. I would give credit where it is due, but in some cases don't know who deserves it. You'll see a poster for a live performance in 1993 and a nicely done review of that show by a person that I am assuming is a Detroit-area writer… perhaps even a journalist.
If you have read this far, then you must have some remote interest in Elvis Hitler. It might be that you have tried to obtain a copy of "Disgraceland" to no avail. It is hard to come by. And you are in luck. I believe in spreading the music and until I receive a cease and desist from Elvis Hitler or his/their representatives I make the following offer:
You send me:
 1 blank CD-R
 1 self addressed and postage paid CD mailer
And I will burn you a copy of "Disgraceland" and send it back to you. One copy per person. There will be no artwork. No money will change hands. If you don't include those two items you will not get them back. Make this easy on me to burn a copy and drop it in the mailbox down the street and you get a copy of this great record. Make it complicated and you won't.
Please do not include extra discs, money or other considerations. Again, I cannot stress enough that I am doing this only to spread the music. I do not want to make a single penny off of someone else's work.
Please note that this is simply an offer of music since this great record should be heard and there are few if any copies left to be had. Let's just hope that they understand that this offer is not an attempt to chisel them out of any money. That is is actually a high compliment, when fans go out of their way to spread the music. The reason we should hope for this? Here it is…
This offer is null and void if and when Elvis Hitler or his/their representatives tell me to stop. This offer is also null and void if and when Elvis Hitler or his/their representatives decide to release another pressing of "Disgraceland" and it becomes available through retail channels with proceeds going to the band.
Now… LET US ROCK!
Keith
Fort Worth, Texas
May 2004


A set of reviews from the internet:
ELVIS HITLER
Disgraceland (Wanghead) 1987 (Restless) 1988
Hellbilly (Restless) 1989
Supersadomasochisticexpialidocious (Restless) 1992

Disgraceland Singer/guitarist Jim Leedy is the fiery Michigan rocker who calls himself Elvis Hitler; joined by the Defever brothers — guitarist John and bassist Warren, whose primary musical enterprise is His Name Is Alive — and a drummer, he roars through familiar-sounding originals that inbreed the Cramps, Mojo Nixon and the Stray Cats. Disgraceland has such convincingly obvious anthems to delinquency as "Hot Rod to Hell" and "Live Fast, Die Young," a few numbers about another feller named Elvis and "Green Haze (Pt. I & II)," a bit of inspired dementia in which EH sings the Green Acres theme over the music of Jimi Hendrix's "Purple Haze."
Hellbilly is louder and harder, a less stylized but still exciting dish of overamped guitars, raw vocals and drummer Damian Lang's swampy backbeat. Besides covering "Ballad of the Green Berets" and borrowing "(Ghost) Riders in the Sky" (for "Showdown"), little Elvis pokes fun at glam-rockers ("Hang 'Em High"), car-nuts ("Gear Jammin' Hero" and "Crush, Kill, Destroy"), saving his least judgmental sentiments for vampires and other horror-movie monsters.
Supersadomasochisticexpialidocious (a title sure to be found atrocious) retools the band to play plain hard rhythm-guitar rock somewhere between '70s lunkpunk and Brownsville Station, with a passing stylistic nod to Social Distortion. The lone 'billy bop — "Shove That Sax" ("up your ass") — and the hep instrumental "Dickweed" sound stranded on the wrong album. Otherwise, lurid lyrics like "Bury the Hatchet" ("right in your skull"), "Shotgun Shell," "Bloody Bride" and "Ghouls" are entirely too obvious, as is the double bludgeoning of bubblegum standard "Yummy Yummy Yummy." The only à la carte entree on this boring blue plate menu is a surprising (not good, just surprising) cover of Danielle Dax's "Cathouse."
Concocting a bizarre cover story, Elvis Hitler was finally laid to rest, freeing Leedy, John Defever and drummer Todd Glass to make a pit spot and re-emerge as Splatter. Pumping out a sizzling and massive rock sound, From Hell to Eternity suffers a little from Leedy's punny lyrical conceits ("If you were me / You'd be the way I am") but hits the highway in a frenzy of white line fever, cranking through souped-up twangin' ravers like "I'm Dropping Out," "Truck Driver," "21st Century" and "Hard Rockin' Daddy" with nary a backward glance.

http://www.geocities.com/SunsetStrip/Hotel/1198/
Disgraceland@Hotmail.com

Elvis Hitler @ the Magic Stick on November 21, 2003
The name "Elvis Hitler" by itself just seems to bring all conversations to a screeching halt. This week I was talking to somebody on the phone about the show at work and I heard those muffled gasps around the office. I quickly managed to blurt out the story of this band before I was hustled off to sensitivity training.
This "Elvis Hitler" is a "psychobilly" band from our own hometown in Detroit. Through the late 1980s and early 1990s they managed to entertain audiences with a blend of humor and rock & roll that that just brought you back for more. It goes without saying that Elvis Hitler was not destined for commercial success, but they put out three albums: "Disgraceland" (1988), "Helbilly" (1989), "Supersadomasochisticexialodocious" (1992) & Splatter. Featuring such unforgettable songs as "Teenage Surf Slave", Don't Blame Me if You Die Tonight" & "Shove that Sax" - Elvis Hitler found a rabid following before breaking up and going into that "what the hell ever happened to" category that you always try to answer at the Lager House well after 1:00 AM.
In this case my prayers were actually answered when I saw that Elvis Hitler was reuniting for a show at the Magic Stick. I quickly scanned my old copy of "Helbilly" and compared it to the flyer – it was even the whole original band!!! Things were just getting better & better. The fateful evening finally approached & I headed down to the Magic Stick. The one thing that I'm always afraid of at these reunions is that there won't be much of a crowd. Ten years is an eternity in rock & roll and people have short memories. As usual, I was completely wrong as the Magic Stick was jammed & I realized that there were quite of few of us who needed to hear the "Ballad of the Green Berets" as sung by the incomparable Elvis Hitler himself.
The magic moment was at hand. The stage was set as Damian Lang (drums), Warren Defever (bass), John Defever (guitar) and Elvis Hitler himself took their places. The crowd surged forward and once again those unforgettable words boomed through the PA: "It's a long way from Berlin to Memphis". Within seconds a frenzied mosh pit had started which of course culminated in a quick fight and forced ejection from the show. These things are way to0 predictable – if you don't want anybody to bump into you – stay the hell away from the front of the stage. The band took this all in stride and a string of familiar hits followed in rapid succession: "Helbilly", "Ghouls (Looking for food)", "Dickweed", "Gear Jamming Hero", "Live Fast – Die Young" and the Green Acres tune were Elvis Hitler sings the lyrics from Green Acres over Purple Haze. Don't even try to imagine how that sounds – it needs to be experienced in person.
Of course, the show ended way to quickly – these things always do. I rushed over to the merchandise stand and the only thing left was a cassette copy of "Super….". I only have a CD player in my car, but I still bought the cassette. I just need more Elvis Hitler – and this evening provided me and a whole bunch of other fans with at least a temporary fix. I don't know if this show is a harbinger of things to come or just a one night stand, but at least it proved one thing to me. I was not wrong – our world needs Elvis Hitler !
Update: (Thanks to Pasadena of the Mutants for the following information)
Elvis did reappear in 1998 as a 3 piece and continued to play until mid 2000. They did several gigs during that time at Lili's 21, and were actually the last band to play at Lili's while Lili herself was still alive. There were also gigs at the Gold Dollar, Jacoby's(313 jack), the Polish Sea League, and even a huge gig at the "Exit" in Chicago in Sept. 1999 where the placed was packed and highly enthusiastic. There is a video of this gig as well as videos of some of the Lili's gigs. All of the Lili's shows during this time were recorded. There are soundboard tapes of every Lili's show from this period as well as a soundboard of the Gold Dollar show and the Polish Sea League shows. The only show that was not either recorded or video taped was the Jacoby's show, but there are pictures of that show on the Motor City Punk website. A compilation CD of tracks from these shows is being put together right now. By the way, I agree with your review of the reunion show at the Magic Stick. That was big fun. Oh ya. One other thing. Elvis also did a live over the air broadcast in late December 1999 at the U of M radio station. (I forget the call letters off hand). It was also broadcast live over the internet. It was hosted by Del Villereal (I probably spelled his name wrong). There is also a tape of that broadcast which included several live songs as well as Jim's witty dialogue and a somewhat informative interview.








Links to Other Sites
Claims to be an official Elvis Hitler Site
Purported to be a contact email address for Leedy (Elvis Hitler)